Fergus MacTavish is a Scottish llama with wanderlust. Each pattern contains illustrated directions with full size patterns for the llama pictured above, as well as a recommended suppliers list. The pattern is available for instant download as soon as payment clears.
Fergus is 13 1/2″ tall and can have jointed arms and legs or not–your choice! Made from faux fur and a hairy woven wool as pictured, but other fabrics can be used.
Each pattern also contains part of Fergus's story with original watercolor illustrations. Don't miss any of Fergus's adventures! Look for all the Fergus MacTavish storybook patterns.
Rue the Reindeer is 19″ long and stuffed full of winter love. Sewing pattern includes full size patterns and illustrated directions plus a list of awesome suppliers. Rue is not jointed. Safe for children. Eyes and nose are needle felted. You may make finished animals for sale.

Frankfurt Fox has safety lock jointed legs and head for posing. His white cheeks are optional. Illustrated instructions include needle felting directions for his eyes and nose, but you could use glass or safety lock eyes as well.
Instructions include a materials list and suggested suppliers. This pattern is for intermediate sewers.
Think Spring bunny, is an easy to sew felt bunny to invite spring into your home! He is free standing at 11-1/2″ tall and has embroidered eyes and nose. No joints! Made from fuzzy felt, but could be made from polar fleece or similar fabrics as well.
Clover is made from chenille stems and wool felt.
Patterns contains written and illustrated directions. You can make this finished bunnies for sale.
These two little country gentlemen are ready to frolic and play. You can make them from a variety of fabrics. The directions include instructions for jo
inting the head with safety lock joints, but you have the option to joint the legs and arms with thread jointing instead of safety lock. Eyes shown in photo are vintage shoe buttons– there are also directions for needle felting the eyes. Safety lock eyes can be used as well, but there are no directions for those.
These two lovies don't stand on their own, but will sit on their own. They are 11″ tall. Noses and mouths are embroidered. Patterns and directions for their jacket and pants are included. Wired ears for posing.
Finished gents can be sold for profit– no mass production. Doll can be made for children if safety lock joints are used and eyes are needle felted or you use safety lock eyes.

Tibbles is made from wool felt and hand sewn using a blanket stitch. This is the listing for the PDF pattern to make him, not the finished elephant.
Think of all the fun you could have dressing this elephant up!
Tibbles is about 4 1/2″ tall with thread jointed arms and legs. Head is stationary and the eyes can be embroidered if you are making this elephant for a small child.
Directions are detailed and include illustrations.Quick 2 hour project, less if you are an experienced hand sewer!

Sir Tenderheart is a 10″, fully jointed lion. The directions include illustrations and full size pattern pieces. Directions in pattern include instructions for glass eyes, but other methods/eyes can be used. Finished projects may be sold. Please do not give finished lions to children if you have used glass eyes. This lion is child-safe if you use safety lock eyes or needle felt the eyes.
This cute little March Hare is all dandied up for the season! The March Hare is 9″ tall when sitting and is 12″ long in total length. The directions for this sewing pattern are clearly written and illustrated.
Directions are for a fully jointed hare made of soft faux fur with needle felted eyes and an embroidered nose and mouth.
Sully is 16″ from head to "tail", but his legs lay out longer. He is made from soft faux fur and is fully jointed. Eyes are needle felted and nose is embroidered. His eyes are shaded with an artist's marker.
Detailed, written instructions with illustrations for clarity. Instructions also include a list of suppliers.
Soft babies for you to make in the Waldorf style. This lavender baby smells as good as she cuddles with dried lavender inserted into the body. Double-seamed for safety and so easy to make you'll be making one for every new baby on the block!
Baby is approximately 16″ long. Directions include illustrations and suppliers for materials.
Baird Bear is a bear pattern with clearly written and illustrated directions. He sits at 17″ tall and is a big bear love. I do not include directions for soft sculpting his face or paw pads, but I do include directions for jointing, inserting the music box, and needle felting his eyes, as well as a great list of suppliers. Great for intermediate bear makers.


Swirly Turtle is made from felt and hand sewn together. He is 6 1/2″ long and about 6″ wide. Easy to follow pattern with illustrations and photographs. Sewn together using a blanket stitch and a whipstitch. I have given him glass bead eyes, but you could also needle felt his eyes or use small safety lock eyes. Have a ball embellishing his shell and fins! Small enough for a seasonal table decoration or to use as an ornament.


Weasels are known for being disarmingly charming and mischievous and Sly is no different! He stands at 13″ and is made from faux fur. He has wired paws to grip things and jointed arms and legs with glass eyes. With a face like that who could resist his demands?
Of course, you can make him from whatever type of materials you prefer! Substitute the glass eyes for needle felted or safety lock eyes, make him from mohair or other materials.

Have a fan of the movie, Happy Feet? Pepper is 11″ of pure winter fun. He is made from faux fur with a jointed head and wired wings and feet. Completely child safe! His wings use a plastic armature for posing (don't worry, I tell you where to get everything in my supplier list!)
Can be made for profit. Easy to follow instructions with detailed illustrations.
At 3″ tall these Spring Chicks are the perfect size for an Easter Basket and you don't have to feed
and clean up after them! Add them to your table centerpiece or to your Easter decor. Fun and easy to make!
You may make these chicks for profit. Easy to follow instructions with detailed illustrations.


Lil' Bedheads are 21-1/2″ long and have an open mouth that accommodates a pacifier, bottle or baby's thumb! The pattern is for the fully jointed baby, no clothes. Lil' Bedheads fit into 3 mo. size baby clothes. Directions for embroidered eyes.
Directions are clearly written and illustrated. Easy to follow, soft sculpting and embroidery instructions are included. You may make this doll for profit.
Have a child or friend who loves the series Guardians of Gahoole?
Surprise them with this adorable owl friend!
Hoot is 11″ tall. He is made from premium faux fur with wired wings and claws. Needle felted eyes. This lovely owl has jointed head and legs for posing and play. Child friendly if safety lock joints are used.
Hoot is for an intermediate level sewer!

Mouse Tales is 4″ tall. Each hand/foot is wired for posability. He is made from cotton velvet, but can also be made from other doll making materials. Directions include easy to follow written instructions and illustrations.
The Forest Guardian made his pattern debut in Teddy Bear and Friends winter 2011 issue. He is about 16″ tall and is fully jointed. Make him from faux fur or mohair. Instructions include detailed illustrations and a great suppliers list. Pattern also includes the directions for his jacket, cap and scarf.
Can be made for fun and profit.

Look out! The Mousekewitz brothers are headed for your neighborhood. Hide the cheese, ya'll!
This mouse patter is fun and easy to make. The mouse can be made of several different fabrics, including, faux fur, upholstery velvet and wool or mohair. Pattern is written clearly with detailed illustrations for face sculpting. Mousekewitz stands at 10 1/2″ tall and sits at 7″. Can be made for profit. Child friendly.

Henry Opossum is a cuddly little guy, and the first release  from my Blackberry Gang series of critters.
He sits at 9″ and is fully jointed with safety lock joints. Child safe. Needle felted eyes and mouth, soft sculpted face and paws. Made from faux fur.


Rockey Raccoon is the second in the Blackberry Gang series of patterns. He is 11″ sitting, 15″ in
total length. His eyes and white brows are needle felted (you could use safety lock or glass eyes though!). The pattern is written and illustrated and includes the pattern/directions for his overalls. Soft sculpted face and and paws.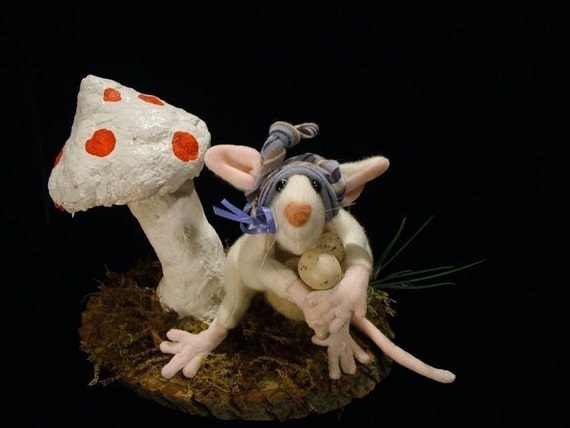 Rat Finks is a 5 1/2″ tall pattern. He is a truly pose-able little guy because all of his fingers are wired. Details are needle felted or you can use glass beads for his eyes. Two different body positions included in the pattern.
Bilbey is a 12″ sitting badger made from acrylic fur or mohair. Bilbey is fully jointed and child safe. Needle sculpted paws and needle felted eyes. Detailed written and illustrated pattern. Best for intermediate sewers.
I discovered this little guy while designing a different pattern, hence his name!
He is made from hand dyed wool with needle sculpted nose and safety lock eyes. He sits at 7 1/2″ tall and is jointed. Pattern includes directions for thread jointing as well as using safety lock joints.Pattern is written clearly with detailed illustrations. Suitable for children. Pattern can be made for profit.
Wooley Bear is a great pattern to make from wool or fur, or just about any material. Fully jointed with contrasting paw pads and ears. Easy to follow instructions with detailed illustrations. the instructions include directions for needle felting the eyes, but safety lock eyes or button eyes could be used as well.
This wonderful 12″ sitting bear has a wool plaid nose, inner ears and paw pads. Of course, you could use just about any type of fabric for those, but I love wool! Clearly written and illustrated directions guides you through the whole process, from cutting out the pattern pieces to needle felting the eyes and nose. You could also use 14mm glass eyes.This bear is suitable for children if you do not use glass eyes. Easy to sew. Safety lock joints.
The Salty Sea dog is an 18″ tall fluff head with a passion for stories about sea adventures! Make him from faux fur or mohair. He is safety lock jointed and safe for children. Eyes and nose are needle felted. Hat is made from a repurposed turtleneck, coat from wool. Easy to make for your little sailor!
Directions are clearly written and illustrated. You may make a limited number of Salty Dogs for sale

An easy to make, fully jointed rabbit. Can be made from acrylic
fur or mohair. Needle felted details, sweet expression. 13″ tall.
Can be made for sale.

Save
Save
Save
Save
Save
Save
Save
Save
Save
Save
Save
Save
Save
Save
Save
Save
Save
Save
Save
Save
Save
Save
Save
Save
Save
Save
Save
Save
Save
Save
Save